Join me at Ostara for a shared evening in Ritual and Celebration of Edens Gate
Ostara is the Celebration of the Spring Equinox. Its a point of balance as the night and day are of equal length and in equilibrium together. Reflecting the polar opposites of dark and light, masculine and feminine, inner and outer, all being in a balanced point. Its a time of insight and clarity.
From now the rising lIght starts to diminish the dark in the Northern Hemisphere. The days will be getting longer as warmth also returns to the lands. All of the natural world around us is coming alive. The whispers and promises of new life at Imbolc are becoming visible and an abundant fertility can be seen. The Earth pours out Her beauty in a rushing cascade of new life.
Now is the time to bring action to the rising new emerging in you. The energy of this time is full, vast and expansive and the air carries the unseen into our senses and into our vision. The direction becomes clear, the way forward opens and flows.
Its a powerful time to commune your connection to the Divine in sacred space. To align deeply to the outpouring of new life as the vital energy bursts all into life at this time of year. Bringing your abundant nature fully into your awareness , as a felt opening in your body and cognised in the immediate experience of your life. Edens Gate flourishes open.
In this abundant frequency of the Feminine the Goddess celebrated is Ostara, a dawn Goddess. And Her qualities are of the Spring Maiden, innocent and receptive. Representing the freshness of renewal and rebirth.

During this heart deep afternoon of shared intimacy and sisterhood you will be:
- Creating ritual together to celebrate the arrival of Spring whilst insights, reflections and stories of the Ostara Goddess are weaved into the ritual and interweaved into our heart sharing.
- Deeply Relaxing into the spaciousness that attunes you into the growth of the new. Through guided subtle movement, meditation and mudras
- Feeling into and acknowledge the call of emergent new beginnings rising in you. The shoots of new consciousness are penetrating through and visible gifts and learnings are opening.
- Tuning in deeper and wider to the smaller cycles inside the larger cycles of life, death and rebirth as you embrace and allow the rising flow.
- Opening deeper into the clear seeing and action calling in your soul.
- Visioning your insights with easeful reflection sheets that enable you to bring clarity of awareness, and rising form to your seeings.
Cost includes:
- A Visioning Reflection Sheet to use on the afternoon.
- A take home sheet of altar and ritual ideas to set up at home to deepen the communion at Ostara
- A specially created 'Taste of the Goddess' chocolate truffle for the evening to invoke a taste of the frequency of Sacred Feminine.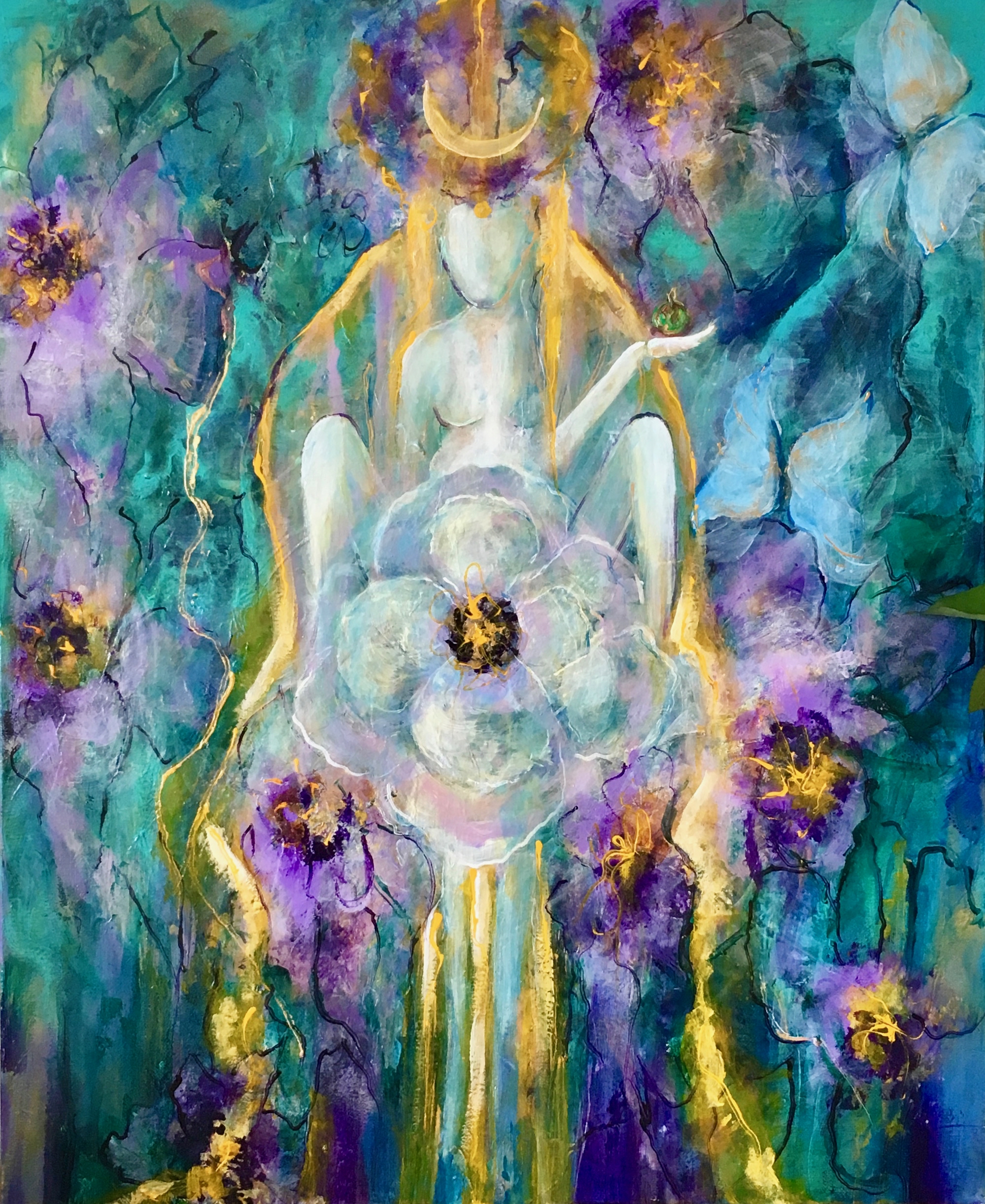 Take a breath.
Come into, this moment.
Presence,
Your self,
In the outpouring of the new.